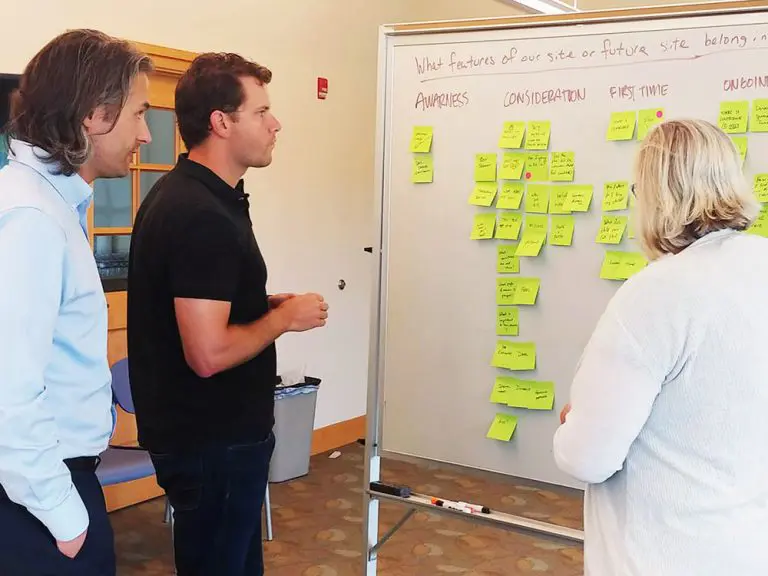 It's an oft-repeated phrase here at Agathon: "There's nothing like getting people together in a room." We've found this to be true time and time again. It applies equally to team retreats and on-site discovery workshops with clients.
We recently spent time with Jon Cameron and Sarah Bianchi from the Parkside Church Communications Team. The goal: to brainstorm and strategize for an upcoming website redesign. We've been partnering with Parkside for close to six years now. So this isn't the first time we've visited them on site. But as we kick off a new project together, this on-site discovery meeting was as invaluable as it was with the first project.
Let's look at a few of the reasons why an on-site discovery meeting is such an important part of our process:
On-site discovery provides an opportunity for stakeholders to come together and spend focused time on the upcoming project
Clients usually have day-to-day responsibilities competing with new projects for attention. This can make it hard for them to give a new project the attention it needs to get started well. Scheduling an on-site brings together stakeholders from both the client organization and our team for focused workshop sessions.
Setting apart this time and having the time and the capacity to focus on a project with an outside group actually helps us gain some new perspective. And it gives us the opportunity to think about our site in a way that—because we're so entrenched in our own understanding of what our site needs to do—we are not able to bring an outside perspective. So it's really helpful to have the Agathon team on site for that.

Sarah Bianchi, Project Manager & Graphic Designer, Parkside Church
It allows us to work through various discovery exercises together
Discovery often involves creating an empathy map, reviewing user personas, or refining a mood board. Whichever exercises we use, spending time in person and working through them together helps clarify and refine the vision for the project. Many also have a physicality to them—we're arranging stickies on a wall or sketching wireframe concepts on paper. Sure, there are remote tools to help with these exercises. But in our experience, they just aren't the same.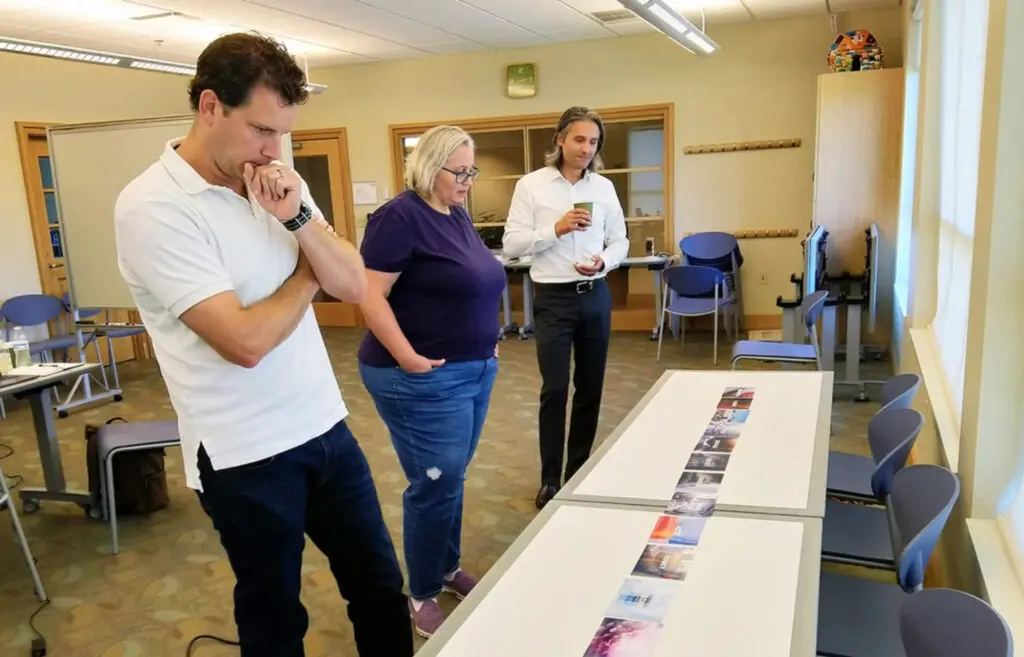 It helps us share objectives, goals, and values at a deeper level
Our team is fully remote. We believe you can communicate effectively even from a distance using tools like Slack, Google Meet, Basecamp, and email. But spending a day or two together in person allows for a deeper understanding than these asynchronous tools allow. While something like Google Meet or Zoom allows for a concurrent conversation, those calls tend to lack the quantity of time an in-person meetings allows for.
This time together isn't just about discussing goals and to-do lists for the project. It also gives us an intimate insight into what makes the organization tick. This allows us to better encapsulate who they are in the design and development phase of the project.
And interestingly, what happens when we spend time on site with Agathon is that they understand us better and they're able to make that web experience much more indicative of who we are as people—what we're like, what we care about, and what someone who wants to engage in Parkside can expect and what they can look forward to.

Jon Cameron, Pastor of Communications, Parkside Church
On-site discovery provides an opportunity for us to set priorities together
Again, you can set priorities through phone calls. But meeting in person lets us deep dive into those priorities over the course of a couple days. Together we identify primary, secondary, and tertiary concerns. That ongoing conversation allows us to ask questions and offer feedback in real time until we all agree.
It helps us determine next steps with the client
The final stage of an on-site discovery meeting is to determine next steps. By this point, we have a clear understanding of the objectives, goals, and values an organization has. And together we've created a priority list we can all agree on. In most cases, the next step is a detailed proposal based on the decisions we've made together during the on-site. Once that's done, we can create a detailed proposal for wireframes, prototypes, and other milestones.
---
On-site discovery meetings provide the foundation for a successful project. They allow our team to come together with product owners and stakeholders from a client organization to clarify the vision and goals for a project. Together we can make decisions about the work through exercises that will impact the design, usability, and function of a website or app.