The Challenge
It was a question of historical ambition: how can every college and university campus in the U.S. be covered with prayer by the end of 2020? Campus ministries often work on the same campuses, but separately from each other. This time they needed to band together to tackle a task bigger than any one organization.
It started as a shared vision between Cru and InterVarsity and expanded to embrace dozens of partner organizations all working to reach every campus in the United States. For the first phase, they envisioned an app that would guide users through a physical "prayer walk" on the campuses.
The challenge was figuring out how to bring that vision to fruition. As a joint venture, each organization had its own in-house development staff. But in the spirit of equal partners, they decided to hire neutral outside agencies all working together to assist with bringing their shared vision to life by helping with user experience (UX), development, data analysis, and marketing.
Agathon is an integrated agency and was initially asked to assist with the Strategy, specifically around UX. Spoiler alert: because the UX work went so well, before the end we also were tasked with Design and Development.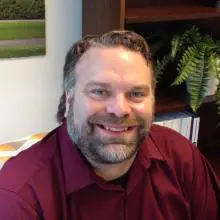 I love to see how well Agathon works with others—you guys are team players. Agathon has been a rock: Alan still checks in, Rachel is our primary contact, Luke's been there from the beginning, and Kedron's elbow-deep in everything.
Mark W. Breneman Digital Product Manager, EveryCampus
How We Worked Together
As with most of our projects, we started with a Discovery phase. Agathon walked the EveryCampus team—including key stakeholders and decision makers—through a series of exercises to help them create personas, a journey map, product backbones, and design studio, all in service of the goals of the project.
Because this project was initially a joint effort between two separate organizations, there were many stakeholders with diverse visions. Walking through these discovery exercises together was vital for getting everyone on the same page and aligned around the same goals.
Before we began building the prayer walk app itself, we were able to use the personas to guide the UX. The team asked and answered questions around which features were truly beneficial for the end user. From there, we created a user interface (UI) that was focused primarily on the user's needs, removing distractions and unnecessary items to keep them focused on the main goal.
Collaborating with other agencies for the backend data, we then built the app that incorporated the front end UI with the backend data.
The Pandemic
This entire project was based on people going to campuses near them and physically walking around to pray. When COVID-19 shut everything down, the EveryCampus team demonstrated clear vision by quickly developing a virtual prayer walk alternative. We were once again able to help them strategize and make decisions on how best to implement this.
Outcomes
Guiding personas. The creation of personas helped guide every decision, giving project leaders a way to present their case to leadership around a unified goal.
Interactive prayer walk guide. We were able to take a detailed prayer walk guide (with more than 50 steps!) and distill it into a user-friendly interface that incorporates imagery in place of text where appropriate and keeps users engaged.
Pivoting during a pandemic. When COVID-19 restrictions began impacting in-person ministry, we helped the EveryCampus team work through their strategy and vision. In the end, they decided on a short-term pivot, providing options for a virtual prayer walk while still looking ahead to the return of in-person ministry opportunities.
Covering every campus in prayer. EveryCampus launched on December 20, 2018. By May 14, 2020, all 4,234 college campuses in the United States had been covered in prayer, despite the challenges the COVID-19 pandemic presented.
What's Next
EveryCampus is now looking forward to their next milestone. While the pandemic has impacted campus ministries, they're careful to differentiate short- and long-term goals, knowing that in-person ministry will eventually resume, now augmented by virtual ministry.
Their next goal centers around fostering gospel movements on each of those college and university campuses by 2030. They will enable this by engaging the people in local churches and communities in campus ministry, whether that's supporting existing ministries or starting new ones. We're excited to continue our work with them in this next phase of their organizational vision.